About
Born in Gdynia, Poland, I graduated from Painting at the Academy of Fine Arts in Gdańsk. I worked there for several years as a graphic designer missing my destiny and dedication which is painting. When I moved with my family to Turkey to work at Bilkent University in Ankara as an Art Instructor I finally met my muse again. Atmosphere, colors and places are a huge inspiration for me, they leave a lasting impression and move my imagination. Traveling around the country, visiting ancient ruins and the mythic, fairytale Cappadocia, I try to recall mysterious images from the past. A camera which is my sketching tool has become my time vehicle. I hope that anyone who decides to visit my webpage will have the pleasure to join me in my journey. I also hope that my fascination with art, nature and history will be or has already been highly contagious to my lovely son Marek and daughter Marta who accompany me in my journey.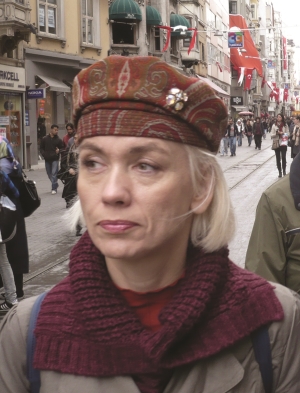 ---
Paintings
---
CV
Education
1992: Master of Fine Arts in Painting, Academy of Fine Arts, Gdańsk, Poland
Teaching Experience
2000 - present: Instructor, Department of Fine Arts, Bilkent University, Ankara, Turkey:

Introduction to Painting
Drawing
Art Studio
Rendering for Graphic Design
Solo and 2-Person Exhibitions
2013

September, group exhibition, "W drodze…", Gallery A, Starogard Gdanski, Poland

2012

October, solo show, Gallery "Wyspa Skarbów", Gdansk, Poland
May/June, 2 person show, Gallery A, Starogard Gdanski, Poland

2011

May, 2 person show, Gallery "Leonardo", Kazimierz Dolny, Poland

2010

October, Curatorial work, World Poster Exhibition "Death is Not Justice", CSW "Laznia", Gdansk, Poland

2009

July/August, 2 person exhibition, painting, CWRDW in Tczew, Poland

2006

September, "Zu Stein Gewordenen Architektur," 2 person show (with T.Wiessenmüller), Galerie Wasserscheune, Erbsen n. Göttingen, Germany
January, "Together", 2 person show (with M. Sladczyk), NYDAI, Europa Club, New York, USA

2004

August, Painting exhibition, Caffe Grün, solo show, Bremen, Germany
June/July, Painting and drawing exhibition, 2 person show(with M. Sladczyk), ZPAP Gallery, Gdańsk, Poland

2002

October, Painting exhibition, solo show, Galeri Sanatyapım, Ankara, Turkey

1991

Painting exhibition, solo show, Gallery, Bremen, Germany
Group Exhibitions
2012

September, group exhibition, Gallery "A", Starogard Cultural Centre, Starogard Gdański, Poland

2011

November, group exhibition for 100 Anniversary of ZPAP (Union of Polish Artists), Gdanski Park Naukowo-Technologiczny - Gdansk Science & Technology PARK, Gdansk, Poland
July/August, "3 Continents meet in Tczew", group exhibition, Fabryka Sztuk/Art Factory, CWRDW Tczew, Poland
January, group exhibition for 100 Anniversary of ZPAP (Union of Polish Artists) State Art Gallery, Sopot, Poland

2009

Feb/Mar, "Sakli sergi", "Hangar" group show, Kum Sanat Merkezi, Ankara, Turkey

2006

May/April, "Sergi/exhibition 0004", group show, State Academy of Fine Arts, Tbilisi, Georgia
"Sergi/exhibition 0004", group show, Museum of Art, Batumi, Georgia

2004

"Bilkent'ten 13 sanatci" Resim ve Seramik Sergisi, group exhibition, Bilkent University, Ankara, Turkey
"Sergi/exhibition 0003", group show, Bilkent University, Ankara, Turkey

2003

September, 1st International Art Festival (Plain Air), Antalya, Turkey
July, 12 Izmir International Fair, group show, Izmir, Turkey
May, "Sergi/exhibition 0002", group show, Goethe Institute, Ankara, Turkey

2002

"Sergi/exhibition 0001", group show, Goethe Institute, Ankara, Turkey

1999

Wystawa Okręgowa ZPAP, group show, St. John's Church, Gdańsk, Poland
Grants
1990-1991

Scholarship from Deutscher Akademischer Austauschs- dienst (German Academic Exchange Service or DAAD), Hochschule für Künste, Bremen, Germany
Other Work Experience
2010-2012

Coordinator of Education, Laznia Centre for Contemporary Art in Gdańsk, Poland

1994-2000

Graphic Designer at own studio 58/65 (together with M.Sladczyk), Sopot, Poland

Designed commercial documents for clients, trade marks and logos, corporate identity packages including business cards, stationery and brochures, developed corporate identity manuals, prepared and submitted art and layouts for pre-press, digital printing, separating colors and ripping plates, prepared promotional items, packaging and clothing, exterior and interior signage, advertising standards (based on Macintosh platform) projects for:
Projekt Art Magazine
Teatr Wybrzeże, Gdańsk
Gdańsk Science Society
Post Bank, Poland
Coffee and Agro Company, Poland-Peru
Port of Gdańsk

1993-1994

Freelance Graphic Designer

Designed corporate identity, programs, posters for Theatre Wybrzeże, Gdańsk, Poland
Professional Organisations
1993 - Present

Związek Polskich Artystów Plastyków (Union of Polish Artists ZPAP)
---
Teaching Philosophy
Teaching art (drawing, painting, graphic) is a process based on a subjective artistic point of view. Each vision is quite different and dependent upon one's knowledge and experience. That's why I will be debating with the students some artistic matters and issues given our different cultural backgrounds and heritage. As a teacher and an artist, I want to interact with them in a way that will boost their creativity, productivity and self-confidence. Below are some examples demonstrating how I try to implement my knowledge and experience to stimulate the students' skill development:
Treating each student individually

Each person, especially artists (also prospective artists) has different potential and different abilities and talents, so a teacher should stress development of those abilities. Students should be encouraged to develop their own artistic vocabulary.

Developing a self-critique skills

This will allow students to be self-dependent and enable them to critically view their own work. They should learn how to see their own mistakes, accept them and correct them. This process, based on accomplished proficiency, will enhance their self-confidence.

Teaching techniques and technology

This is another, very important part in artistic education. Learning different media, integrating theory and practice, exploring a variety of media and tools (traditional and contemporary) will inculcate technological know-how and increase their creativity dramatically.

Introducing art principles and foundations

I believe that learning the basics of artistic perception is the first and unavoidable step to be introduced to future artists. A journey through contruction, composition, directions, scale, perspective, contrast, point and line, light, shade and shadow, color and value as well as artistic anatomy should strengthen their artistic skills and core perception of art. Having the foundations well grounded in their practice, students can then create their own vision, style, analytical perception and their own view of the surrounding reality.

Experiments, innovation and expression

I would like to broaden their horizons not only by experiencing the traditional values but also stimulate their creativity, imagination and expression by experimenting, using various media and mixing them. This can positively influence students' ideas of their own art works and develop their artistic vocabulary.

Great journeys into art history

The field of art history, as well as modern and contemporary art is a subject for deep analysis. Students get some research projects, students presentations and discussion. They are exposed to art museums, galleries, archives in the surrounding community and beyond.

Artistic opportunities outside of school

It is very important to encourage students to become more mature artists by giving them the information and helping them to participate in national and international competitions, applying for grants and scholarships and entering students' exhibitions within the campus and art venues outside the campus.